Scholarship Spring 2023 Winner Easton Adakai
Spring 2023 Scholarship Winner
Easton Adakai
Easton Adakai is one of our $1000 Fresh Start Scholarship winners. Easton is excited about the opportunities that college will offer to him and from his writing, you can tell he is passionate about his academic career. Easton knows that his fresh start as a college student presents him with many challenges and he is prepared to face those challenges head-on. We wish Easton success and luck as he pursues his dream of becoming a Physical Therapist.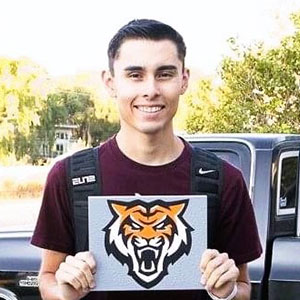 Read Easton's Essay:
I am a first-generation college student, so me attending college is a big deal for me and my family. I wanted to go to college because I believe that a higher education leads to a higher quality of life. It also represents a huge shift in my daily life. I have never experienced anything like college, and it was completely foreign to me. Obtaining a college degree would help me become more independent and allow me to provide for myself and my family. A fresh start for me would mean breaking free of the more traditional labor jobs I always pictured myself having one day and going into a more challenging and rewarding field. A fresh start means being able to push my ability to think critically, and mentally grow as a person.
I am currently studying to one day become a Physical Therapist. Even though I took dual enrollment classes in high school, I have about 7 more years of schooling ahead of me since I am a freshman. I plan to become certified as a Physical Therapist Assistant, and then after I have my bachelor's I can apply to be in the Physical Therapist program and start working towards my doctorate. In order to truly have a fresh start when I graduate and enter the career field, I hope to graduate with little or no student debt. This is why I am taking advantage of every opportunity I can and applying for scholarships, because I won't be able to accomplish this on my own.
One drawback of a fresh start is that you are heading into uncharted territory. It was difficult for me to go through the college process because neither me nor my family had ever done it before. I had never been in a class with a hundred people, or had classes with nothing but lectures, or filled out scholarships. I had to completely change my study habits and schedule. As daunting as this change was, it was not an unwelcome one. I was presented with more freedom than I had ever had in my life. This is what a fresh start is; the power to freely chose what you do next, without anything holding you back.
The reason I want to be a Physical Therapist is because of my experience as an athlete. I have seen many of my peers receive injuries during the season and have to go to physical therapy. I realized that becoming a Physical Therapist could be a way for me to offer a fresh start to others, or a second chance. Having an injury is an obstacle and a limitation in a sport. If you can work overcome that injury, you regain the freedom to grow and become something greater. I have been injured before, and after I healed it felt like I had dropped a burden and could move forward again. I want to share that experience with as many people as possible and help them to get back to doing the things they love to do.