Scholarship Spring 2023 Winner Briella Laliberte
Spring 2023 Scholarship Winner
Briella Laliberte
As one of our Spring 2023 award recipients, Briella will receive $1,000 to help her pay for educational expenses as she finishes her freshman year at the University of Hartford. In Briella's essay, you learn of the adversity that she has faced throughout her life and the perseverance she has demonstrated from an early age. Our team is proud to benefit determined students such as Briella.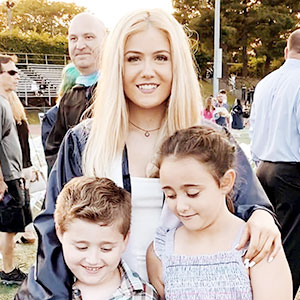 Read Briella's Essay:
For me a college education is more than starting fresh, it is crucial. I was born into a world where the thought of a college education was out of the question. My mother and father abused drugs for a long time before I was born, and continued to do so after. My mother tried to get clean but it was never successful, my father wanted no part in me. Around two, I got adopted by my mothers, mother. My biological grandmother, the most loving, hardworking woman in the world. When my grandmother grew up she was told from a young age to not think of college because that was " for the boys". My biological mother and father got back together at some point and had my two younger siblings, first Shaelyn then Caleb. In my freshman year of high school, my parents relapsed and Shaelyn and Caleb were in the backseat. Shaelyn and Caleb were then placed in my home with me. I spent the majority of my high school life raising them while my biological mother went to rehab and my biological father was back in jail. Eventually, they were given back to my parents while I was at school, with no warning or anything. Despite all of this and the feelings of hopelessness, I pushed through. I started fresh. I carried on with my schooling and I knew I couldn't let this derail me. I worked harder in school and on the cheer team. I volunteered with the Special Olympics more and I knew I would need to work 10 times harder than the average person to get the life I wanted. In my senior year of high school, I secretly started applying to colleges and not telling anyone. I started getting into my schools and eventually told my family. The summer before going to college my adoptive mother started getting very sick and we had to sell my childhood home. She had to move to a 2-bedroom house with my aunt. During the fall semester, we found out she was diagnosed with Lewy Body Dementia. This diagnosis meant she could no longer work, and it meant I had absolutely no help financially. Obtaining a college education will help me start fresh in a sense, by opening opportunities I would've never dreamed were possible for myself. It will help me create a stable and meaningful life. Getting a degree would show my siblings that no matter what, we are capable of starting fresh. There are no drawbacks to starting fresh, because starting fresh is something I've needed to do since I was born, and something my family has needed since before I was born. Starting fresh, to me is something way more than being awarded a scholarship. It's a way to symbolize all I've done is worth it. It's a sign that anything I put my mind to is capable and in reach for me. This scholarship would help immensely with the cost of books and especially the cost of coming to the spring semester.